Dancing With the Stars may have lost out on its top target in Lindsay Lohan, but sources say another major "get" may be imminent: Kendra Wilkinson.
Kendra was approached by ABC and met with execs, E! reports. "Her personality, combined with her ability to dance, is appealing," a source says.
Off the record, her breasts don't hurt, they probably thought. Also, the quota of at least one former Playboy centerfold per year must be adhered to.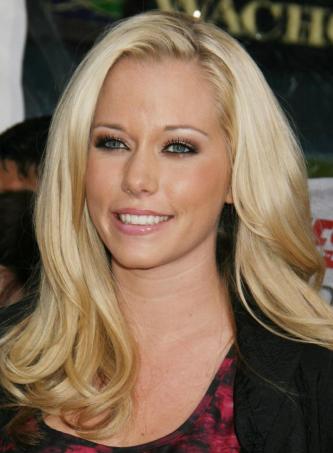 GO KENDRA: Will Mrs. Baskett catch DWTS fever?
Less than a year ago, on the Today show, she didn't mince her words about the reality competition, saying she would likely pass because she's a hands-on mom.
Fast forward 10 months and the money may do the talking for K-Dubs. It's not like they can count on big paydays and job security from Hank. No offense, Hank.
Besides, what better way to stir up fake divorce drama than dancing suggestively with Maksim Chmerkovskiy? In Touch Weekly just started salivating at that.
ABC's official line is that it won't comment on casting rumors, but the new season will kick off in March, so we should hear one way or the other soon.
Jessica Cauffiel Rachel Nichols Chandra West Brooke Burke Eva Mendes